CHRISTMAS POP-UP
2 Versions!
Romantico Romantico invites you to: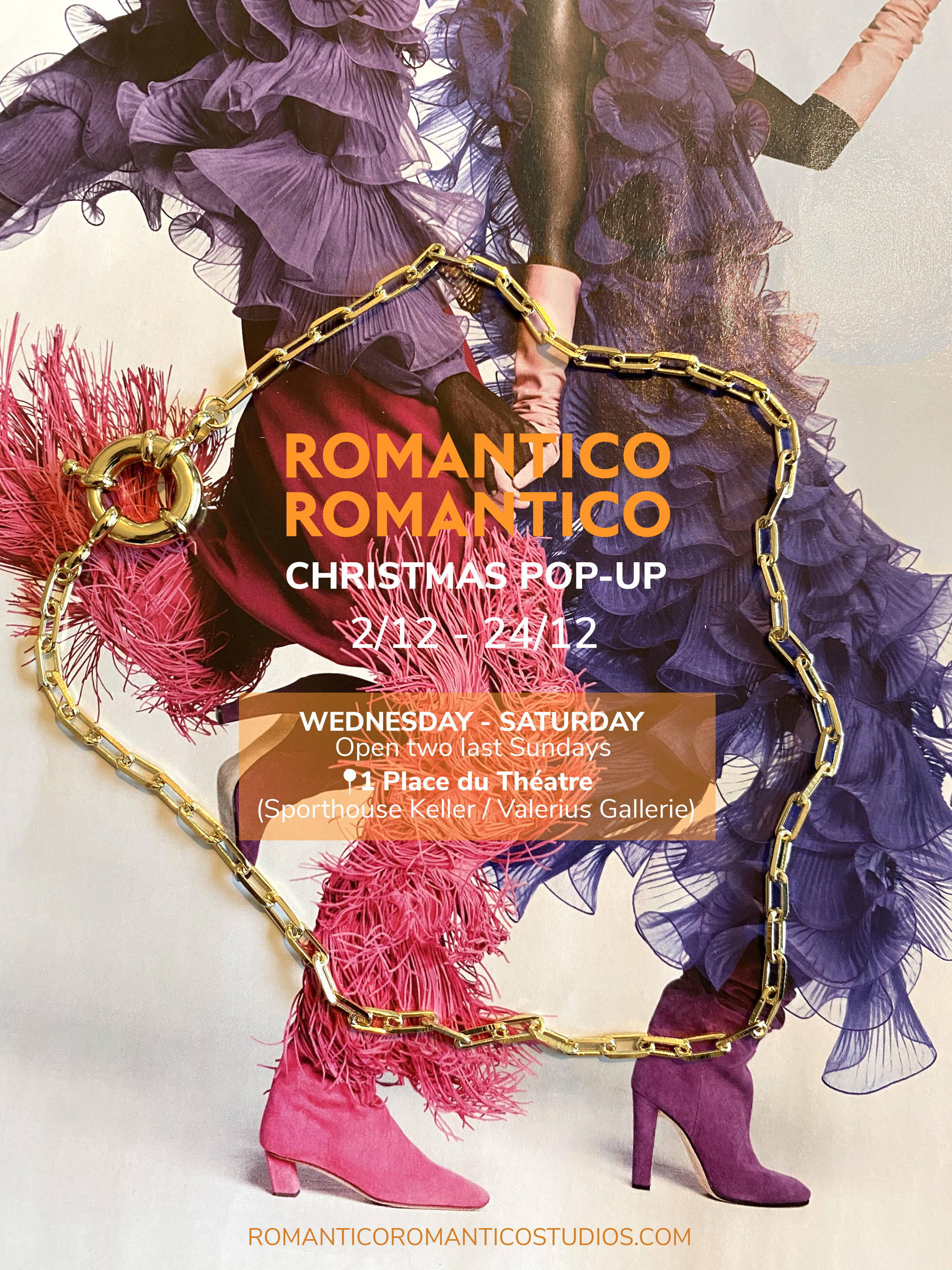 1. "Escapade to Aspen"
Free entrance


Get Christmas-Ready with our local Pop-Up Store: Escapade à Aspen.
Location: "Sporthouse Keller" Corner
/ Valerius Gallerie
Opening Days & Hours
Wednesday-Saturday 10:00 - 18:00
2/12-24/12
Sunday 14:00 - 18:00
13/12 & 20/12
Participating Brands:
@weardiversity
@devi.clothes
@hymeraluxembourg
@romanticoromanticostudios
@minusplus.co
@yogaloft.luxembourg
@haeremillen
@simplicithe_luxembourg
@firstfloor.lu
Celebrating the end of this year, we invite you to our very special Local Pop-Up Store: Escapade à Aspen. We look forward to welcoming you in a friendly atmosphere, with a sophisticated and exclusive touch, inspired by the spirit of the beautiful resort of Aspen, Colorado. Come and share with us this unique adventure, where creation is harmoniously combined with respect for nature and those who manufacture the products. This Pop-Up Store is curated by Female Entrepreneurs in Luxembourg. Be prepared to find a gift for all your family members.

2. Private Shopping
Due to the circumstances of Covid-19 we want to offer our customers the very best of service.
If you don't want to visit our Pop-Up but rahter prefer a quiet athmosphere with no people around, we'd like to offer a private watch
on Mondays & Tuesdays (30.11-22.12) in our Studio in the City Center next to the Palais Grand Ducale.
RSVP and take an appointment with us here: hello@romanticoromanticostudios.com
**** Covid-19 ****
All precautionary measures
will be taken into account.
Please make sure to bring your own mask.